As an author in many different genres, I invite you to check out the following:
My personal diaries (all seventy of them) bear testimony to my life-long fascination with language and writing, as I began journaling in my native tongue, Swedish, when I received my first diary for my seventh birthday.
At the age of seven, I wrote my first two "books." The thing that strikes me about The Baker and his Wife is how I, at such an early age, knew that laughter was too frivolous for our little world. When the baker gets a large order for sweet rolls he breaks into a happy song but the patrolling police officer steps into the store to tell him to be quiet because he's "disturbing" everybody.
The other book from the same time, The Troll in the Woods, is all about that sweet mythical being who didn't know how to perform magic like the rest of the trolls. My father helped me illustrate the cardboard covers that held the frayed pages of both books together. On the back, I penciled "written by the world-famous authoress," – perhaps not an uncommon goal of a young girl who was already a voracious reader.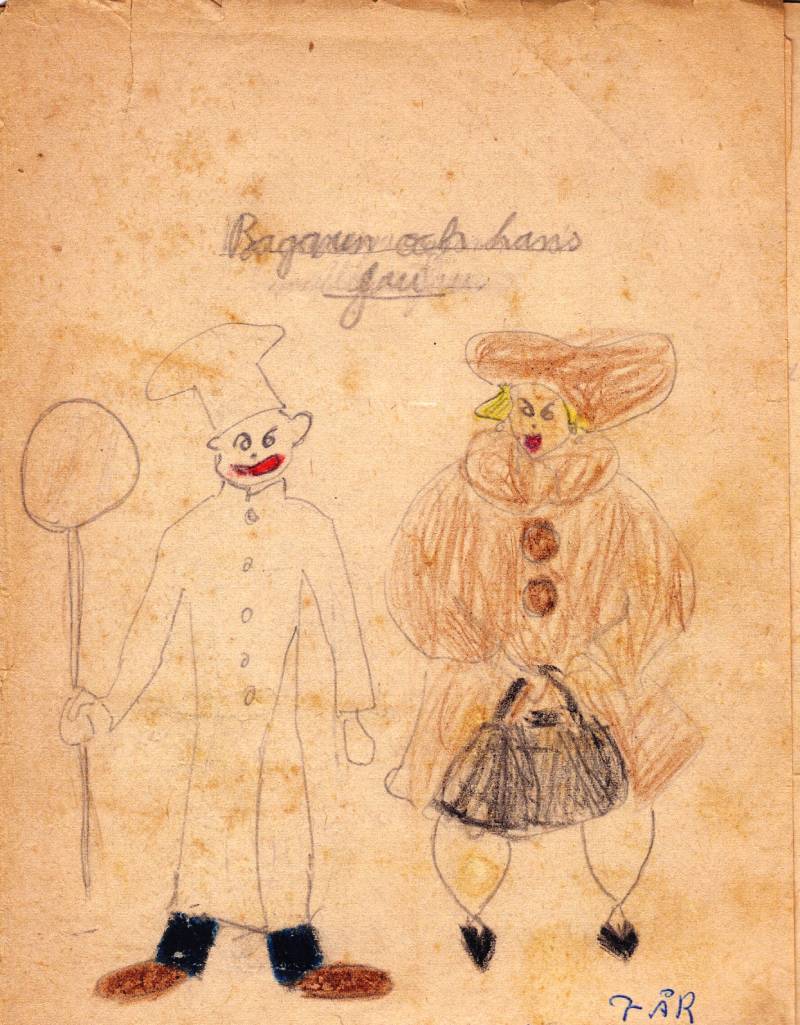 When I interviewed James Michener (yes, he of worldwide fame) for the major Swedish-language daily in Finland, I shared that little tidbit about my grandiose dreams with him. As our visit ended and he walked me to the door of his home, his otherwise somber face broke into a mischievous grin. "This is the first time my threshold has been crossed by a world-famous authoress," he said. And, we both laughed.
Although I grew up in a culture where compliments were few and far between, my high school writing teacher (still in Helsinki) was an exception. His praise – that my pen was a divine gift ("gudabenådad" for those who're interested in the original language) – kept me going throughout the years, in spite of the usual snickers by my classmates echoing in the background.
Maturity has since given me a more balanced grip on reality, but I've never stopped writing. While I no longer seek fame and fortune I believe stories will always continue to be our legacy as human beings.
Compulsive Disorder (OCD)
His never-ending obsession with the main actors in the Holocaust – even though a terminal illness – lays the foundation for my own fixation with the wartime history of the Scandinavian Jews.
Readers of this non-fiction work get important historical facts (for instance, that Hitler invaded Denmark and Norway on the same day in 1940 while Finland and Sweden were left alone) without being overwhelmed by mind-numbing information, in a way that the previous literature about the years 1940-1945 has not done. My personal reflections help readers relate on a more personal level while letting them see how history and culture continue to affect the way we still view human relations, specifically in the area of tolerance and the fight against antisemitism.
To mention just one example of how my own contemplation of the subject of antisemitism has been shaped by the unexpected questions I've received, when one of my listeners stumped me with rumors that Jean Sibelius (world-famous composer from Finland) had been an antisemite it sent me to his partially-published journals (written in Swedish, my own native tongue), which apparently are the root of the claim of his antisemitism. While I reflect on that question I also consider the historical context of Finland during the composer's lifetime.
Among my unique qualifications are my proficiency in all Scandinavian languages, my scholarly background, and that I – through my ongoing lectures and writings – understand what Americans want to know about this part of history involving four Scandinavian countries (Denmark, Finland, Norway, and Sweden), all with their own unique experiences.